Bathtub Refinishing Reviews – How to Hire a Legitimate Refinishing Contractor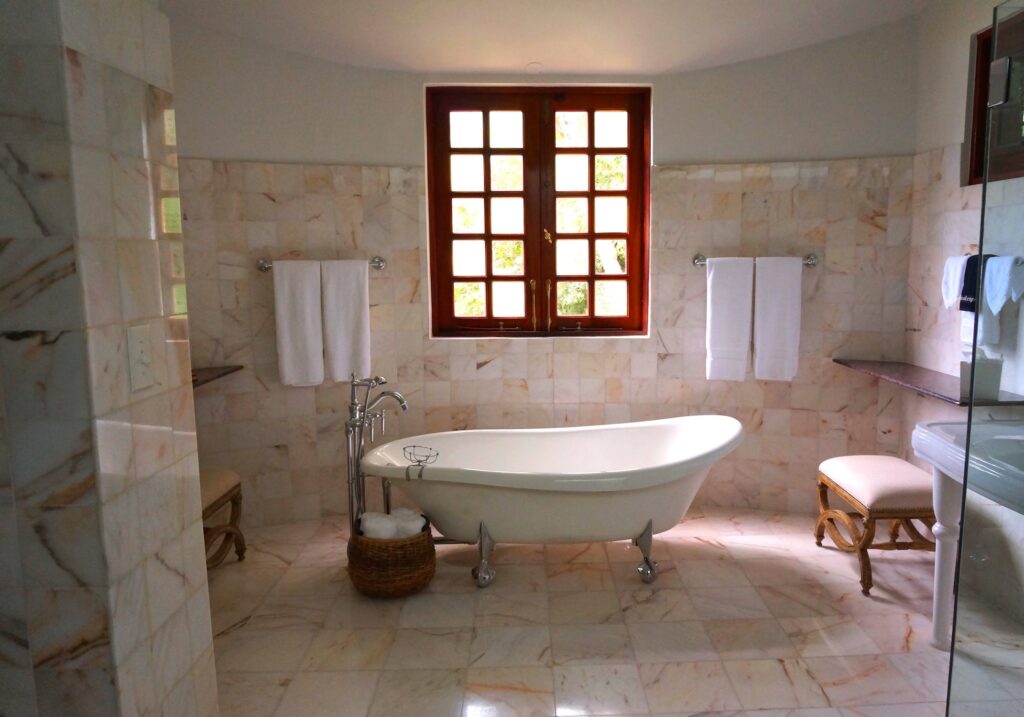 When your bathroom looks a little drab and dreary, then maybe it's time to think about a makeover. Bathrooms are a place to start and end each day, so they should never be less than enjoyable and relaxing. Of all the amenities in the bathroom, bathtubs are the focal point that sets the overall mood. But over time, bathtubs may grow unpleasant water stains, mold and rust. Dents, chips and cracks may also show up on the surfaces of metal tubs or cast iron bathtubs. If you want a fresh look, take a cue from bathtub refinishing reviews to see how it works for them and will for you as well.
Many feel that restoring the bathroom sometimes includes replacing your bathtub for a total makeover. But before engaging yourself in a costly remodeling project, why not consider refinishing work instead?
What Is Bathtub Refinishing?
Bathtub refinishing is restoring worn-out tubs by applying restoration techniques on the surface. Contractors check on the state of the bathtub and work on it depending on the damage. It can include buffing the surface, sanding, filling, and finally layering it with paint that is more like a coating as it is special to tub refinishing. Refinishing is the best alternative for restoring bathtubs without going through the hassle of a new installation.
Hiring the right contractor goes a long way for whatever project you have in mind and whatever budget you have in mind. Trustworthy contractors do the job right the first time without quality issues. In rare chances you need to re-do work done, a warranty may be given. However, many in efforts of trying to save money, hire a handyman or contractors that use cheap epoxy or paints to try to do the same job. This never works out and ends up costing customers more money they have to re-hire a real professional reglazer to re-do the job. These customers unfortunately end-up paying double.
How to Hire a Legitimate Refinishing Contractor
Construction services are everywhere nowadays, with ads popping all over the internet when you want them and when you don't, lol. Going through bathtub refinishing reviews is often the best place to start looking. Legitimate contractors like Tub Coaters transparently display these reviews on our website.
Testimonials from clients should give you an overview of what to expect from our company.
So how do you spot the legit contractors from shady ones? How do you hire bathtub refinishing contractors, and where should you start?
Check Multiple Contractors
The first option you see on the internet is not always the best choice. Take recommendations from other people or search your locality for refinishing contractors. Check for references and bathtub refinishing reviews that may be provided on the websites. The feedback is the personal experience of clients from past projects. Aside from the workmanship, testimonials often validate the professionalism that a certain company and organization possess.
Some of them may not have a website, but refinishing contractors that advertise their works should have an existing office you can visit. Look them up on Google Maps to confirm the existence of their offices. Legit contractors should also have landline numbers you can call. Tub Coaters for example, is available for a phone call any day of the week!
Do a Phone Interview
Once you have a good looking company in mind, give them a call. See how fast they answer or if they answer you right away. Companies that take an extended amount of time to respond, may not be the best fit. Inquire about their services and ask for a free estimate. Ask your prospective contractor about the size of the project, alternative solutions and other services they can offer. Other possible questions you can raise are the materials they use, and the estimated timeframe of the work. Tub Coaters for example, specializes in all remodeling tasks, so they have an extensive amount of knowledge and know what's best for all scenarios.
Set an Appointment
After you rule out the best contractors for you, visit their office for further discussion or finalize details with a final call. The meeting should set the atmosphere to see if you are comfortable working with them. Communication is crucial, so a contractor should be able to answer your questions and put you at ease.
Check with the bathtub refinishing contractors' details like:
Experiences
References
Financing options
License, bond, insurance, and accreditations
Payment schedule and milestone
Make the Deal
No matter how big or small your project is, make sure you have a contract or written scope of work as protection in case something goes wrong. It should stipulate all that you have agreed upon, such as:
Cost and payment milestone
Project timeframe
Services to be rendered
Other agreed stipulations
The contract should be in writing, read, understood and signed by both parties. Keep a project file and outline of the project and indicate changes made in the contract, if any. It will give you legal protection in case a future dispute arises. Tub Coaters, puts all work in writing for their customers to be transparent and does not believe in up-charging for essentials items. Be careful as many refinishing contractors do.
Hire a Bathtub Refinishing Contractor Today
Bathtub refinishing is an important process for many homeowners. It not only revives the bathroom space but also prevents deterioration that devalues the home. While it is possible to DIY a bathtub refinish, it might end up in waste or is dangerous for you.
One problem is the leaching of toxic chemicals when using sub-par materials and its improper application. Professionals know how to work around various bathtubs and their re-glazing and finishing materials. They also use protection measurements to protect your home.
Hire legitimate contractors by reviewing their portfolio and bathtub refinishing reviews from past clients. A company with good years of experience can do the job right with a durable and lasting finish. Select the companies with a good reputation and positive feedback. You need to exercise prudent judgment to ward off refinishing contractor scams that proliferated in the industry.
If you are looking for reputable contractors, Tub Coaters Tub and Tile Refinishing can be the one for you. We have more than two decades of experience extending our services across Baltimore, Maryland and Washington, DC. We will not use cheap, over the counter epoxy or paint that will fall apart in months.
Our undisputed commitment to quality of work and customer service for glazing jobs is what makes us the top choice for many home remodeling projects. We have our proof of excellence from client testimonials and search engine reviews.
We guarantee to deliver your expectations from your project. Feel free to call us for a free estimate or visit our office near you for further inquiries. We are your one-stop shop for any home improvement, bathroom remodeling and makeovers that your home deserves.