Fill in the form to receive $50 off instantly!
Do-It-Yourself Kits (DIY) Stay away from them and why!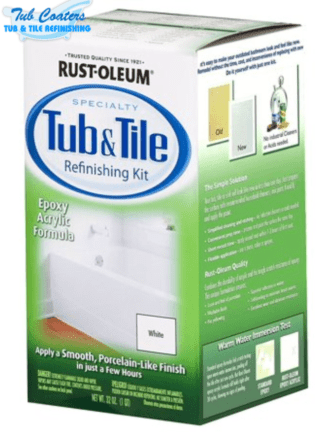 Bathtub refinishing/reglazing is often and mistakenly thought of as a "Do-it-Yourself" project. This may be thought to be true in some cases due to the fact that in many other industries, including the auto body paint industry, a similar approach to reglazing is used. 
However, in bathrooms, almost all refinishing and DIY tub reglazing jobs on tile and tubs result in complete failures in less than a year! We all look to save money, but it is a fact that every one out of three customers that call our company does so because of a failed attempt to properly recoat their worn-out surfaces with so-called professional bathtub refinishing kit. Our staff of dedicated refinishing experts have years of experience, used thousands of dollars of equipment and extremely expensive finishing products that cannot even be found in some states in the United States. Therefore, how can one believe that a $50 refinishing kit will suffice when our materials can cost hundreds for one job? If our company could use a DIY reglazing kit, then we could cut our cost by 90% or more!
Also the dangers of paint fumes and materials are often overlooked. The paint fumes in refinishing jobs can cause extreme damage to the work environment and are not pleasant to work with without the proper ventilation systems, clothing, and masking materials. If you were to invest in the proper equipment, you could much more than exceed the cost of having a professional service done by 10 times (thousands of dollars). Our professional refinishers are already equipped with the special materials prepared for each job. You will not have to worry about the negative effects these chemicals and materials may have on you, your tenant or your family.
There are many home improvement stores that will sell you Do-It-Yourself bathtub kits that will almost guarantee you having a need to call a professional tub refinishing company in as early as a few months. 
There have been customers (especially landlords) that have called our company for work within days of an application of an over-the-counter tub refinishing kit. This creates an urgency for any refinishing job and requires at least one day of downtime in which a customer or tenant cannot use the tub or bathroom. Also a customer has to spend more money and time arranging reglazing service with our staff and pay a little MORE MONEY to have us remove the old cheap tub paint that they put on. The tub or surface previously refinished has to be stripped (existing paint must be removed) of its failed DIY bathtub reglazing before the proper application can occur. The additional work would be subject to an additional cost. 
Lastly, no DIY kit will give you one tenth of the life that our professional services would! In summary, if you desire a quality tub, tile or claw foot refinishing job that could last 10-20 years and saves you bundles of money, you should not hesitate to talk to an experienced refinisher at Tub Coaters to have the job done. A claw foot tub refinishing kit won't quite offer the results you could have and deserve! 
Call us NOW! (we are open every day of the week!)