Fill in the form to receive $50 off instantly!
Why Should You Choose Tub Coaters For Your Professional Service!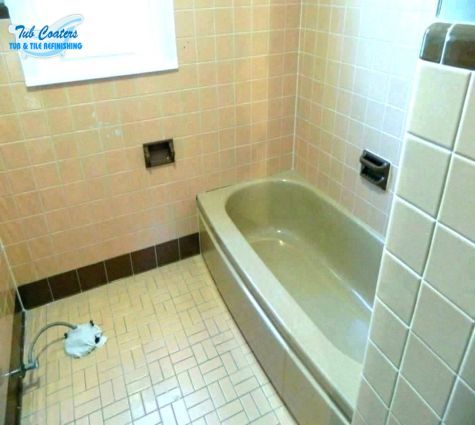 There are many reasons to trust our company. First and foremost, we pride ourselves at Tub Coaters for having the most innovative and high quality reglazing materials in Maryland! We know that a refinishing technician is limited to his/her equipment and materials. Therefore, we choose to use the absolute best technologies available in the world. You can be absolutely confident that a refinishing job from Tub Coaters will result in the best refinish that this industry has to offer. We have a patent pending "heat bond" technique used to insure the longest life for your tub and or tile refinish. Our technique can be used on all materials including but not limited to steel, cast-iron, porcelain, fiberglass, acrylic and more. Our materials do indeed cost significantly more than many used by our competitors in Baltimore Maryland and surrounding areas, but we feel contempt in the fact that our customers are never "shorthanded". 
This gives us a sense of pride, that there can never be a refinish job that could last longer and be more durable than what our technicians provide. We are highly recommended by our customers and many have used our company for services for 10 or more years. Our technicians will used a high-pressured HVLP sprayer to apply the finish, giving your bathroom a new look look and not just a "quick fix" appearance.
Our refinishes can last 15 or more years with proper care! Some other techniques used by our competitors that we feel are outdated include acid-etching techniques in which acid is used to "etch" surfaces before a finish is applied. This method requires the use of extremely hazardous acids that can be very dangerous to you and your family. We at Tub Coaters, would never use these chemicals in our own homes, so we would never use them in our customers. Not to mention, that these ancient methods are self destructive in that the residue of acids can further promote the final finishes to crack, peel and fail much quicker than the work done by our professional refinishers at Tub Coaters.
When you make an appointment to use our company, we treat your meeting with us as a personal invite into your home. Your home "is your castle" as they say and it is one of your most sacred places. We understand that you are trusting our staff to respect your home as you do. Every technician at Tub Coaters is trained to properly care for all personal belongings. Every refinishing technician is equipped with several tarps for protecting the floors of of your home. Also we take may precautionary steps to properly mask all areas of the refinishing working area preventing dust and fumes from collecting on any objects in surrounding areas. We also are proud to boast that we use some of the most sophisticated and heavy duty ventilation machines to properly vent all fumes from your home.
Our managers are happy to report that many customers call back to our office in amazement at how unnoticeable the fumes are. Many customers can work in adjacent rooms and have no clue to any fumes resulting from our reglazing materials. Every technician is equipped with several ventilation systems including industrial hoses, box fans and more. When we leave your refinishing job, we want your bathroom cleaner than it was before we left! A cleaner bathroom makes for an even better presentation when its time for you to witness your new bath!