Fill in the form to receive $50 off instantly!
The Difference Between Refinishing and Full Replacement Bathroom Remodeling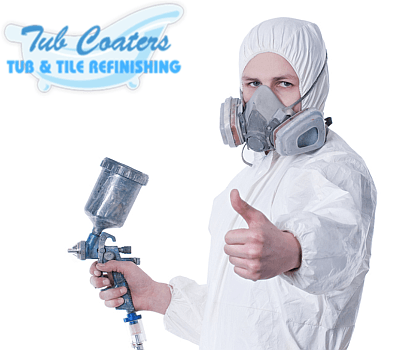 Whether you choose to contract your entire bathroom or just a tub for refinishing bathroom refinishing is an excellent choice over buying a new bathtub and or tile. You'll save yourself and/or family a bundle of money. It is true that a new tub can be purchased for only a few hundred dollars (we hear this all the time from customers), but after you factor in removal/demolition, installation and labor, you can expect to save up to 80% by choosing to refinish rather than having an entirely new installation done. What if you have a totally cracked tub or tile, that is damaged beyond repair? First, you should call us to see if there is any way we can resolve the issue before refinishing. If we cannot then we have just the perfect solution in a bath liner. Our acrylic bath liner systems are designed as permanent fixes to damaged tubs and/or surrounds. Our quality job and professionalism in any solution that we provide, often makes it very hard for our customers to tell the difference between a new and refinished bathroom. We are a leading bathtub and tile refinishing company in Baltimore, Maryland, offering unmatched porcelain bathtub and fiberglass tub repair services
$800 – Demolition & removal
$350 – Cost of replacement tub
$575 – Plumbing cost (drain, and lines)
$1300 – Tile installer (tile and grout)
$425 – Carpentry, molding caulking, etc.
$3,450 Total Replacement Cost
Recommended Time without tub:7-10 days
$650-$1350 Average Shower Pan or Average 5′ tub
$650-$1350 Total Refinishing Cost
Recommended Time without tub:24 hours
In the above example, one of the more overlooked points is the convenience factor. Almost every job that we do is completely done from start to finish in one-day! You could not buy this convenience for any amount of money when looking to completely renovate. The demolition of your bathroom alone, may require a day. Also the convenience of not having to "micro-manage" is also a comforting reality in refinishing. In a full replacement renovation, customers have to monitor several stages, including demolition, required permits, the purchasing and acquisition of materials, monitoring and approving various steps in installation, disposal of waste and materials, necessary plumbing, payment schedules, customer service issues and possible much more. Not to mention that these steps will include several different people and companies, all in and out of your home from day to day. What a drag! Our refinishing jobs often require only one person for one day! Full bathroom remodeling and Refinishing are "night and day." Relieve yourself of the stress. This can be that one easy and no-brainer home improvement project you've always wanted!